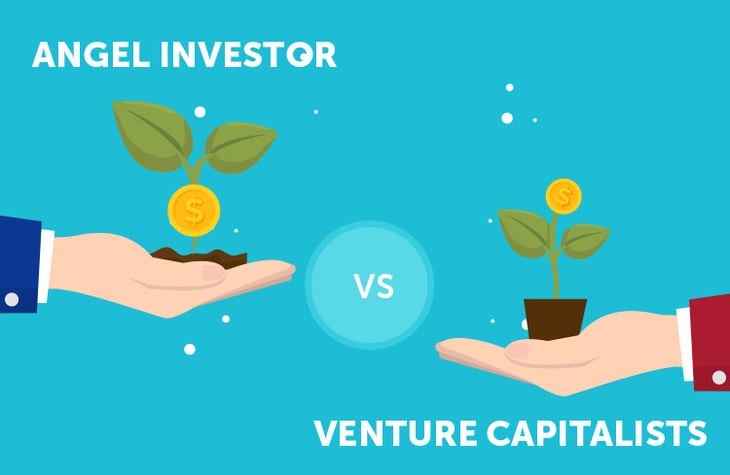 If you are seeking a financier for your business, it is important to know fine differences between an angel investor and venture capitalist beforehand. Also, as an entrepreneur, you must know what each of them can offer to you.
Small-size enterprises and particularly, startups exist in a highly active economic arena that provide myriad opportunities to entrepreneurs. On the basis of the type of business as well as the demand of what it offers, there are several ways to entice funds. While some entrepreneurs seek financial help from their friends and family, others rely on crowdfunding or a small business loan.
Incidentally, a major chunk of entrepreneurs approach venture capitalists and angel investors for the same purpose. So if you are the one who is planning to visit any of the two to raise funds, you should know some basic differences between them to make an informed decision for your business.
Being the two most common funding sources, venture capitalists and angel investors share a few similarities. For example, they both prefer investing in tech startups and help innovative business ideas to materialise. That said, there are some critical differences between them.
A venture capitalists is part of an organisation, but an angel investor functions alone:
Also known as business angels, angle investors are basically individuals, often influential, who invest their own money in startups. These are rich businessmen, who invest in high-potential budding ventures in return for a stake in that company.
Provided that they invest their personal money and there is always some associated risks, angel investors usually don't prefer investing in a business, whose owner is unwilling to offer a share of his venture.
On the other hand, venture capitalists are firms that consist of a bunch of professional investors. The capital for investments comes from various sources, including corporations, personal funds, foundations and pension funds. These are often called limited partners.
Besides, there are general partners – who work with entrepreneurs and company founders – and are responsible for fund management while ensuring continued growth of the organisation.
They differ with respect to the amounts they invest: If you are planning to visit a venture capitalist or angel investor for raising funds, you should have an exact estimate of how much they can offer you to support your business fiscally.
In general, angel investors invest somewhere between £ 20,000 and 75,000 GBP of their personal money. When angels aggregate in a group, their combined investment may exceed £ 576,390 GBP.
Although they are an instant solution (obviously due to their limited funding potential), they are often unable to fulfil the full-capital needs of a company. On the contrary, venture capitalists can invest £ 5.3 billion GBP on average in a company.
Their motivations and responsibilities differ: The primary role of angel investors is to offer financial backup. However, they may offer important contacts or advice you on something critical, they aren't bound to do so. Their degree of involvement depends on their personal preferences as well as the company's wish.
Venture capitalists are usually interested in a promising service or product with a strong competitive edge, a highly potent market and a proven management team. Once they are convinced and have made an investment in a company, they will put all necessary effort to make it a success. This is what distinguishes them from business angels.
If required, venture capitalists also play a role in strategy building, hiring the senior management, offering advice and serving as board of CEOs with the aim to help the company generate more and more profits.
Unlike venture capitalists, angel investors solely invest in nascent startups: The expertise of angel investors lie in early market entry and late-stage technical development. Funds from angel investors help company run smoothly.
Venture capitalists, however, invest in fairly developed companies or early-stage companies, based on what the focus of the venture capital firm is. If a startup has immense potential to grow and is compelling enough to invest in, a venture capital is likely to support it. They are also keen on investing in businesses with demonstrated track record of achieving success. Venture capitalists often fund such companies to speed up their growth and development.
They differ in terms of due diligence: Due diligence is a highly debatable topic in today's finance scene. Many investors don't do it altogether and they are not even bound to so as whatever they invest is actually their own money. However, a report suggests that a minimum of 20 hours of due diligence makes it five times more likely for angel investors to realise desired returns.
Venture capitalists, on the other hand, have professional accountability towards their limited partners. They may invest an additional sum of £ 40,000 GBP on researching their investment-specific prospects.
The points above are the most typical differences between venture capitalists and angel investors. And, it is totally up to you who you want to approach. However, to up your chances of bagging the funding for your business, you should put considerable efforts in creating a strongly convincing pitch.
With a little luck, you can fetch the much-needed entrepreneurial and fiscal support to grow your business.
Here's a quick snapshot of major differences between a venture capitalist and angel investor:
| | |
| --- | --- |
| Angel Investors | Venture Capitalists |
| Functions Alone | Functions as part of a venture capital firm |
| Fund between £ 20,000 and 75,000 GBP | Fund up to £ 576,390 GBP |
| May or may not help in addition to funding | Usually put efforts in addition to funding to help the business succeed |
| Have expertise in early market entry and late-stage technical development | Invest in fairly developed companies or early-stage companies |
| Generally skip the process of due diligence | Often invest up to £ 40,000 GBP on researching their investment-specific prospects |