Securing capital is often one of the most significant challenges for Black-owned startup businesses when starting a business. Black communities have less access to banking and a history of discriminatory lending practices, making it difficult for them to obtain loans or financial assistance.
This article will help you find resources for funding your business, including loan and grant programs, as well as private equity firms known to support Black-owned businesses.
The struggle of getting enough funding
The issue of accessible and affordable funding is not unique to ethnic minority businesses. The problems they face and experience are considerably more severe than white-owned businesses. They are held back by barriers not met by other entrepreneurs even when they contribute £25billion a year to the U.K. economy.
And even though businesses owned by ethnic minority entrepreneurs are more creative than their rivals, their businesses tend to appear more distant from conventional funding and are more likely to face disproportionately challenging access to capital. These concerns will discourage many ethnic minority entrepreneurs from starting their businesses off the ground and limit existing businesses' expansion.
The funding gap
Black-owned businesses face difficulties accessing affordable small-business loans and often must seek out alternative funding sources as a result. This puts them at a disadvantage and can affect their ability to compete in the marketplace.
However, despite these differences, black-owned businesses have opportunities to secure funds using grants, microloans, and other business equity funds.
Funding Resources for Black-Owned Startup Businesses
To support the future of Black enterprises, there is an urgent need for long-term funding resources. Several N.G.O.s, private equity firms, and grant programs have sprung up in recent years solely to support Black entrepreneurs.
Here are several funding resources for black-owned startup businesses.
1. Crowdfunding
Crowdfunding is a way of raising funds for individuals, corporations, and organisations. Individuals or organisations engage in (or donate to) crowdfunding projects in exchange for the possibility of a profit or reward.
Crowdfunding allows entrepreneurs to raise hundreds of thousands or millions from anyone willing to put money into their business. Furthermore, it gives a venue for people with an idea
Hundreds of ventures are available to choose from, and investors can invest as little as £10. However, small enterprises and startups can raise a minimum of £10,000, with no limit on how much they can raise. Crowdfunding platforms profit from a percentage of the funds raised.
By utilising startup platforms such as Trendscout, you can fund your business by attracting many interested in investing in your small business startup through small investments. Each investment from a backer contributes to your goal, so even the tiniest donation helps, and you don't need access to an accredited investor to fund your startup.
2. Pitch Competition
A pitch competition is a contest where entrepreneurs present their business ideas to a panel of judges in the hopes of earning a cash reward or funding.
Pitch competitions all have their own set of parameters and rules. Still, regardless of the format, company owners will be competing against many other entrepreneurs with similar business ideas.
Also, even if you don't win, the pitch competition is an excellent method to get your foot in the door to the world of venture capital and angel investment.
One example of a pitch competition is the MSDUK Innovation Challenge.
MSDUK Innovation Challenge
The MSDUK Innovation Challenge aims to increase entrepreneurial diversity by assisting founders from ethnic minority groups in starting and scaling successful businesses.
Now in its fifth year, the annual competition provides S.M.E.s and startups with the opportunity to exhibit their big ideas to worldwide brands and investors. The winners will get a monetary award of £5,000 and corporate mentoring and access to workshops.
3. Google Demo Day
Demo Day is a small-scale event in which accredited and active investors may have honest conversations with Google-selected founders.
Startups can apply to pitch, and local partners in the Google for Startups partner network can nominate them.
The startups are evaluated by Google teams, who choose them based on their team's strength, execution and traction, and growth potential.
4. Grants
A grant is a sum of money (or financial aid) given by the government, an organisation, or an individual for a defined purpose. Unlike a loan, you don't have to repay the money.
Black business owners already know how difficult it is to raise grants or capital for their businesses. Loans have always been an option for securing capital to start or grow a business, but small business grants seem best because it's funding that requires no payback.
Here are some available grants that can assist your business growth or startup.
Facebook Small Business Grants Program for Black-Owned Businesses
The grants programme is a part of Facebook's overall commitment to invest $100 million (or over £70million) this year.
This program aims to keep small business workers employed, assist with rent or other operational costs, and help firms connect with more customers while also supporting the growth of the communities in which they operate.
Innovate U.K. Smart Grants
U.K. registered organisations can apply for a share of up to £25 million in funding for game-changing and commercially viable R&D that can significantly impact the U.K. economy. Innovate the U.K., which is part of the U.K. Research and Innovation provided the funding.
Applications can emerge from any technological field and be applied to any sector of the economy, including, but not limited to:
the arts, design, and media
creative industries
science or engineering
The Ubele Initiative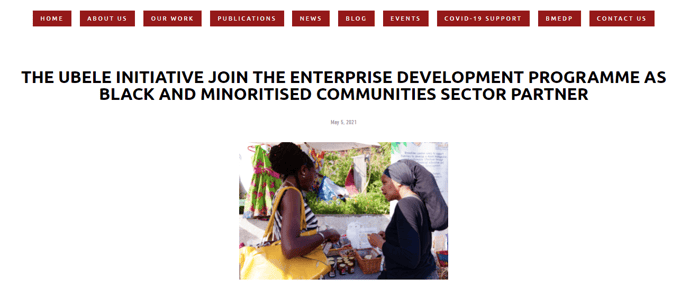 The Ubele Initiative will join the programme as the Black and Minoritised Communities sector partner. The Black and Minoritised Communities Enterprise Development Programme (BMEDP) will contribute to one of The Ubele Initiative's new three-year strategic plan. They will establish the first-ever National Strategic Alliance as part of this plan to support community wealth building in Black and Minoritised communities. Ubele will lead the BMEDP, which will be housed within the National Strategic Alliance.
Organisations apply to the program and, if accepted, engage with the relevant sector-lead to develop support that best meets their needs.
5. Capital Assistance and Business Equity Funds
Business equity funds refer to investing your own money or someone else's money in your business as an alternative to borrowing money to fund your business (e.g., a standard bank loan).
Some of the main sources of equity capital are:
Family and friends - an essential source of equity for new firms
Business angels - are wealthy individuals who invest their own money in promising startup companies.
Crowdfunding - seeking funds from the general public, either as a donation or in exchange for a good, service, or equity stake.
Venture capitalists - professional investors that invest funds in operating companies with strong growth potential
Public float - obtaining funds by issuing securities (such as shares) to the general public.
Capital assistance and business equity funds can help you make huge savings and may be exactly what you need to get your business started.
Here is a list of capital assistance and business equity funds that can help black-owned businesses:
Black Owned eXcellence or B.O.X.
The B.O.X.' Black-Owned eXcellence' was founded by a Black Entrepreneurs, multi-industry professionals and investors team to address the lack of Black Business Ownership and Economic Influence in the U.K.
By bringing together a network of investors and business experts looking for the next generation of innovative venture prospects, the B.O.X. makes Equity Investing options more accessible to founders of black origin and their peers. For both startups and growing enterprises, they combine equity financing with continuing mentoring and partnership support.
Diversity V.C.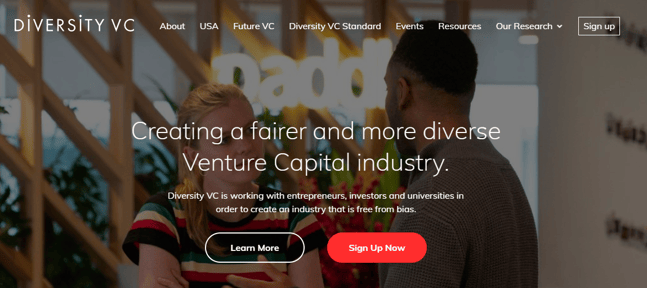 Diversity V.C. is a non-profit partnership network that beliefs investing in businesses led by underrepresented entrepreneurs would generate better decision-making and higher profits. In addition, they assist minority innovators in obtaining the funding they require and deserve, resulting in a bias-free sector.
Impact X
Impact X was originally founded in the U.S. However, realising that investments in black entrepreneurs were less prevalent in Europe, they decided to open a branch in the United Kingdom.
Impact X was formed to help underrepresented entrepreneurs in Europe use impact investing in creating social change. They primarily target Afro-Caribbean entrepreneurs seeking seed, series A, or Series B capital in entertainment, media, tech, health, and digital.
6. Private Equity Firms
Private equity (P.E.) firms provide investment money and investment management.
P.E. firms raise investment capital from individuals and institutional investors, such as pension funds, to fund equity investments in companies, either directly or through leveraged buyouts (L.B.O.s) of publicly traded companies.
An example of a private equity firm is McGuireWoods.
McGuireWoods
McGuireWoods introduces an initiative to assist Black private equity and finance professionals in developing business opportunities and driving the community toward a more diverse and inclusive environment.
The Black Professionals in Private Equity and Finance (B.P.E.) initiative will bring together professionals from all sectors of the financial services industry to network, share ideas, and drive change. Panel talks and roundtables with financial services experts will be held, as well as an online series featuring trailblazers and rising stars.
Summary
There are several challenges that black-owned businesses face in raising the funds they need to scale.
Fortunately, there are many available solutions (such as Trendscout) helping these startups raise the funds they need.
Trendscout can help fund your business by attracting many people interested in investing in your small business startup through small investments.
If you are interested or have any questions regarding how Trendscout can help your business, you can schedule an appointment with us today.
Rest assured that we'll help you in answering all your questions.